Hampshire
Howard Woolford
HKW Phoyography (New Forest).
Hust View Lower Pennington Lane
Lymington
Hampshire
England
SO41 8AL
tel:- +44 1590 690 646
mobile:- +44 7736 469 511
web address:-
hkw.photography/
facebook:-
HKW Phoyography (New Forest).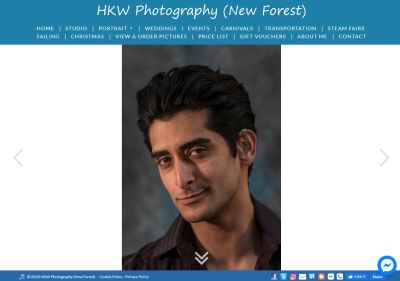 Specialist Photographer for :-
Qualified Freelance with a passion for photography
New Forest and surrounding areas - including the Isle of Wight Agricultural shows -Airshows - Animals - Birds - Candid - Carnivals - Events - Equines- Landscape - Pet portrait - Sporting events - Studio portrait -Sailing - Steam fairs - Transportation - Weddings - Wildlife The Pet Portrait business has its own website as this is the area of photography I specialise in, under the name of Wessex Pet Photography.
Regarding Pet Photography, I aim to capture the character of any animal, and to be patient and wait for that special moment when the subject is relaxed and being itself.
One of the most inspirational photos to me is that of the emotion caught on camera as Usain Bolt crossed the finishing line - ''I've done it''. To capture that special moment at any event I have been involved in photography for many years, going back to the days of film Qualified in City and Guilds Advanced Wedding, advanced Studio Portraiture and Digital Manipulation Insured for Public Liability and Indemnity CRB checked and have worked in a nursing home and for two day nurseries
During the 90's, I virtually gave up photography. In 2008, having moved to the New Forest some years earlier, my interest was rekindled. In 2012, I purchased my first ''serious'' camera, and in 2014 ditched the semi automatic camera modes in favour of manual and feeling the need to undertake some formal training, enrolled with First Point Photography which run a three week full time course. This has been completed. My 2018 goal is to achieve my LRPS, and to enter more photo competitions. Always to continue to improve, and study, hence the quote from Leo Palmer on my homepage, to look back at the previous year's work and see an improvement
Qualifications
C&G in Advanced Wedding, Advanced Studio Portraiture and Digital Manipulation
Competition wins
2013 Romsey show runner up 2015 Romsey show winner 2018 New Forest Photography group - monthly competition winner Testimonials ''I know you are good'' Mrs Sue Young who has asked me to cover events at St Lukes church, Sway, on being informed regarding Romsey Show result. Regarding the Romsey 2015 win, one of the panel runs a photographic business and thought no wonder I was slow to claim my prize given the quality of the winning picture September 2017 -''Thank you so much for sending these photos over, we really appreciate you taking these. They are fantastic.'' Alexa Hobday, secretary Romsey Show
Inspirational Photographers
Helmut Newton for portrait with a touch of glamour, eroticism, even having undertaken shoots for Playboy
Gina Milicia. Sicilian born Gina moved to Australia and has photographed just about every celebrity worldwide over the past 25 years.
''Gina Milicia is one of the most widely known and respected photographers in Australia. She is the master of capturing that 'magical moment' both in studio and on location, especially when working with people.'' - Link
The Gibson family, especially Frank, local photographers to the Isles of Scilly.
Dog and pet photographers Elke Vogelsang, Rachael Hale McKenna and Arica Dorff
Railway photographers - O Winston Link, Bishop Eric Treacy, Mike Esau
Sport and action - Dave ''a good photograph is knowing where to stand'' Black, and Graham ''the cycling photographer'' Watson, the latter showing how to identify a niche market and make a success of it.
Equipment
Nikon D810, 24-70 and 80-400 lenses.
Canon 7dii 18-135, 100-400mm, for sport, action and wildlife - the 7dii has an impressive burst rate but am tempted to go entirely Nikon with the launch of the D850.
Canon prime lenses - 50mm (the ''Nifty fifty'') and 85mm
My dream camera would be an updated Fuji S5pro, based on a modern Nikon body with a decent burst rate
On my websites, albums have three levels of security
- 1. Visible to everyone and images may be purchased 2. Visible to everyone, but subject to the standard model contract and images not for sale without prior approval of those concerned. No price plans shown 3. Private albums which may not be viewed or images purchased without link/password. This includes any child photographs taken at public events.
Loxley Colour are my photo lab due to the attention to detail, such as accurate calibration and colour correction as well as the wide range of merchandise from a standard 6x4 print through to top of the range photo albums and personalised products such as mousemats and mugs.